Login to India Post Agent Portal - Forget Password Problem - unable to login
Published On: 22-Feb-2019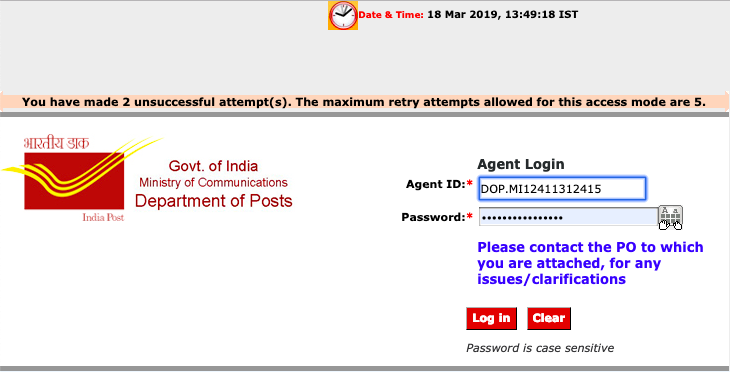 Password Issue of Post Office Agents while Log in to India Post Agent Portal
The first and foremost thing is to remember the tricky passwords of the portal because of the mandatory requirment of special characters. When that is not enough, Every six months post office agent is asked to change the Log-in password, Seriously ?? but why?
It is one of the reason that India Post Agents often lock their account access and get message as "unable to login " .Culprit is Google Chrome or Firefox browsers which autofills the password and show DOTS in the password field,and DOP Agent totally lost track of his password, agent is ignorant that it can be find out from the Chrome settings -> password sections(See images in the end). And since RD Agent does not remember her old password, she sometimes enters wrong password on the change password page and Boom!! her account is locked after 5 consecutive wrong attemtps, and when it happens on the last days of the month, they got so panicky about it because if the portal access is not unlocked on time, Agent has to bear the default Fees due to late payments.
Finally Post office Agent reach out to the post master, give an application and then it get reset after 48-72 hours and finally they login to the India Post Portal and finish the schedules.
Some Questions/Suggestions:
Why do India post agent need to change the password that too after 6 months, When all the leading banks, National as well as Private banks DO NOT prompt the user to change the password even once in 5 years.This should be permanently stopped, This will not only save the department's time but also the Agents time and Fine.
Why can not India Post Agent Log in portal have a Forget Password option - Where a new password sms can be sent directly to the Post office agent's Phone.
How to Find Saved Password from Chrome:
Go to Settings of Chrome and search "password" and follow as per below pictures: